Catholic College Wodonga welcomes everyone.
To understand the Catholic education difference, please watch this video.
As a family you face an important decision about schooling, individual growth, and subject variety. Thank you for your consideration in choosing Catholic College Wodonga for your child's secondary education.
Process
Applying for enrolment involves submitting two digital forms; Stage 1 (S1) and Stage 2 (S2).
STAGE 1
Read the Enrolment Guide by clicking here to understand what information is required (and when).
Complete the Enrolment application via the link below.
Please have the relevant documents ready to be uploaded as a PDF prior to commencing the enrolment application.
Payment of an application fee is required when lodging Stage 1.
$55 CEW schools   |   $110 other schools

Payment via online enrolment application
STAGE 2
Stage 2 (S2) Acceptance of Enrolment is distributed by the College after a review.
Stage 1 Required Documents
Please make sure you have the relevant documents ready before completing Stage 1 (S1) of the Application for Enrolment. 
Stage 1:

Application for Enrolment

Stage 2:

Acceptance of Enrolment

Student's details

Parent/carer details (all parties)

Parent/carer details

Emergency contacts x2 (NOT a parent/carer)

Documents (if applicable) are required as PDF files.

Other formats (JPG, PNG, GIF) cannot be uploaded.

Birth certificate

Baptismal certificate

Court orders

Credit or debit card (application fee)

VISA (if applicable)

Current school reports x2

NDIS (if applicable)

Learning assistance reports (if applicable)

Specialist reports (if applicable)
Failure to submit any stage (and associated documentation) by the published deadline may impact on the College's capacity to progress an enrolment, resulting in your application being placed in a late interview round – when less places are available. Submission of forms is NOT a guarantee of acceptance.
Key Dates
For the Enrolment Process timeline, please refer to page 21 of the Enrolment Guide.
2023     Student intake occurs at the beginning of each semester (Semester 2 commences 19 June 2023). Exceptions may apply depending on individual circumstances (i.e., family relocations) and will be determined by the enrolment panel.
2024     Applications submitted after the March deadline are likely to be placed in a later interview round and a Wait List may apply. Families accepted for Year 8-12 2024 actually start in 2023: participating in our Commencement Program (Dates TBA) when we begin the 2024 curriculum.
Open Day & Tours
Come and see the College for yourself on Monday 27 March from 4 – 6.30pm.
Self-guided tour give families the opportunity to explore the college at their own pace. It allows parents/guardians to talk to staff that specialise in areas that are at most interest to you. Prospective students can take part in the many hands on activities to get a feel of what is on offer at our College.
If self guided tours aren't for you, you can pre-book a tour with a student leader. Tours take place in groups of up to 20 people per time slot. Guided Tours are now fully booked.
If you are unable to make it to the Open Day, click here for a Virtual View of our school.
Standard enrolment tours resume in Term 2. These tours take place 9.00 – 10:30 am Mondays and are subject to demand from May through to December. If you are interested in a tour, please email enrolment@ccw.vic.edu.au.
Buses
If your child is eligible for bus allocation,  the correct form will be emailed to you in Term 3.
For those not commencing at the beginning of a Calendar year, please see below for more information.
Conveyance Allowance
This is a form of financial assistance to help with the cost of transporting students to their nearest appropriate denominational school.
Eligibility criteria Eligibility is determined by the Victorian Government, not the College. Students attending a non-government school, i.e Catholic College, must:
attend the nearest Catholic school appropriate to their year level
live 4.8km or more by the shortest practicable route from the school
Families living near Beechworth, Rutherglen or Chiltern should check which is their closest school: our College or Galen in Wangaratta. Use 'Bing maps' as a reference. The final determination for qualification is made by the Victorian Government through its Student Conveyance Allowance System – SCAS.
Download Conveyance Allowance Form
Country Service
Service Areas (various bus lines). Allan Flats, Bandiana, Baranduda, Barnawartha, Bellbridge, Bethanga, Bonegilla, Castle Creek Road area, Chiltern, Ebden, Gundowring, Indigo Valley, Kergunyah, Kiewa, Killara, Osborne Flat, Talgarno, Tallangatta, Tangambalanga, Sandy Creek, Staghorn Flat and Yackandandah.
Download Country Bus Service Form
Families living in NSW
Families in NSW must lodge applications online via Transport NSW School Student Transfer Scheme: https://apps.transport.nsw.gov.au/ssts/#/.
Failure to organise may result in your child being excluded from bus travel.
All forms can be returned to Ella via email. If there is any questions about which form you require, contact conveyance@ccw.vic.edu.au or 02 6043 5500.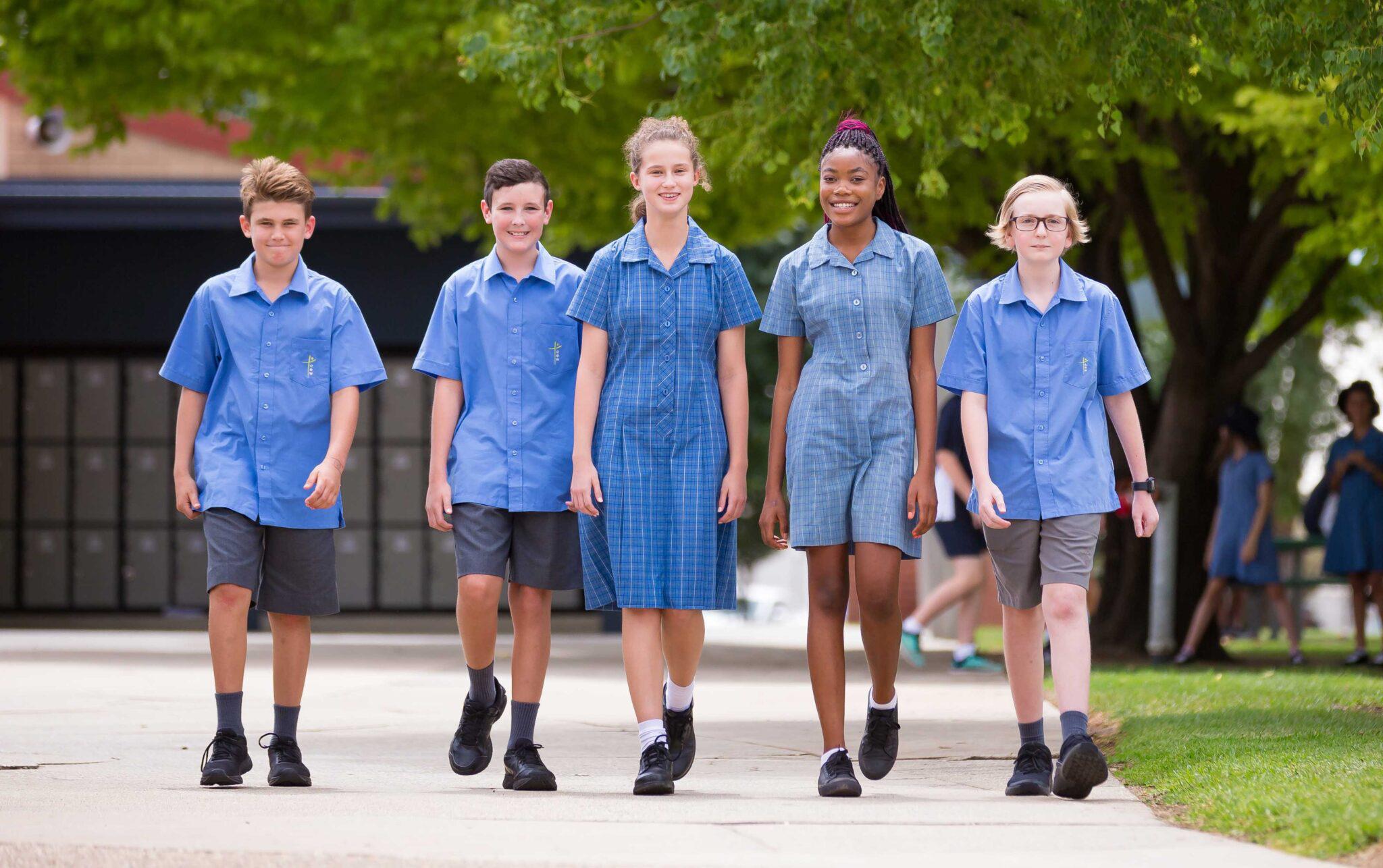 Uniform
CEW stands for Catholic Education Wodonga. CEW represents St Augustine's, St Francis of Assisi, St Monica's and Catholic College Wodonga.
Alinta Apparel is the exclusive supplier to this CEW school community. All items, other than shoes and socks, must be purchased from Alinta Apparel.
2024 Year 7's – Alinta Apparel will contact families to book a fitting in September until December.
Mid-Year Intake (Year 7-11) – Make contact with Alinta Apparel.
Commencement Program – Students participating in the Commencement Program are expected to wear the PE Uniform and source the full school uniform by the beginning of Term 3, 2023 (mid year intake) or Term 1, 2024.
Please visit the CEW website for more information.